We had a pretty rockin' open house weekend and some of you asked if I would share a few of the recipes. I have to say its nice to have the food catered but I really do enjoy cooking sooooo I'm thinking I'll do it when I can! But first.... let's talk Wiletta. Located in the FQ Story historic district of downtown Phoenix, this home had a total makeover! I'm not going to go crazy with photos but here are a few of the finished product and a couple before and afters. At the time of this post we have just listed it for $467,000 Stats: 3/2 Study/1 car garage/RV gate 1751 sq ft 1946 build Photos: Gina Zee Photography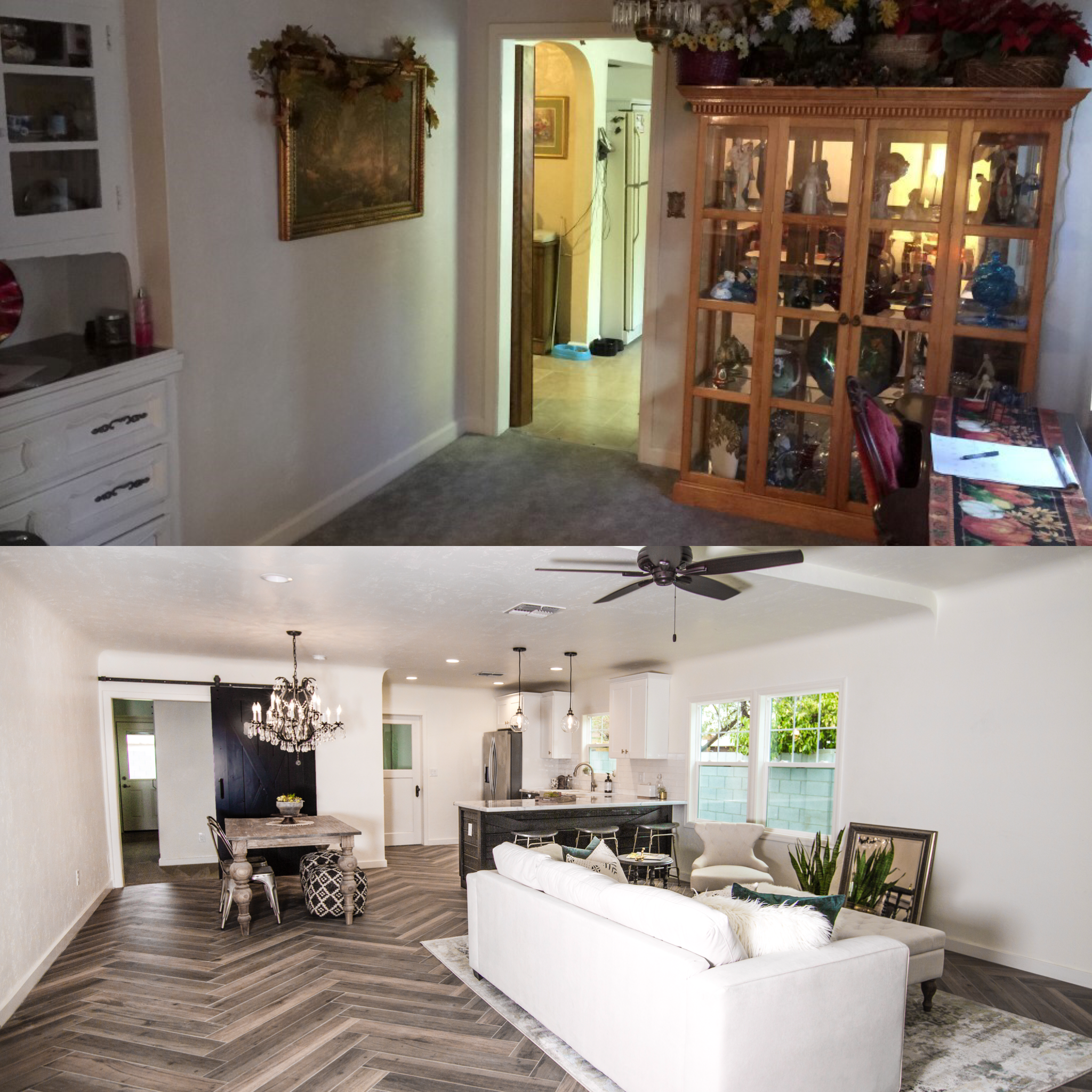 It was magical to get over 400 people through the house and hear the feedback. I truly am so grateful for the opportunities I have to remodel these homes. They are homes, not just flips. We put love into each of these projects with the vision of the new owner spending the next years of their life there.
Now let's talk food. I think these are perfect fall/holiday appetizers and now they can be yours too! First up the Cranberry Salsa. At first glance I thought well that is kind of weird, at first bite I was in love. Simple but ends up having a very rounded flavor you would have thought I spent a whole day on it. Guess again- 10 minutes and 2 hours in the refrigerator.
So here goes- I used 1 jalopeno and I removed seeds AND the veins before I tossed it in the food processor. I don't like too much heat so if you want to turn it up toss the whole thing in there after you cut off the stem of course.
Cranberry Salsa with Cream Cheese
Ingredients
12 ounces fresh cranberries
3/4 cup granulated sugar (add more to taste)
1 jalapeno , seeded and chopped coarsely (leave the seeds in if you like it spicy)
1/2 cup cilantro
4 green onions
2 tablespoons lime juice
pinch of salt
2 (8 ounce) blocks of cream cheese
Place all of the ingredients in a food processor (EXCEPT CREAM CHEESE) and pulse until desired consistency. I like mine fairly fine. Chill in the fridge for a couple of hours (preferably overnight) to allow the salsa to macerate. Serve over cream cheese and with crackers..
 
The fine print.
This makes enough to cover two blocks of cream cheese. Some people prefer to spread the cream cheese on a serving dish with the salsa on top. I poured mine on top of a block of cream cheese and garnished with a sprig of cilantro. I served mine with sea salt artisan toast.
Depending on how tart your cranberries are you may want to add more sugar. This last batch I added a total of 1 cup of sugar.
 
Slow Cooker Spinach Artichoke Dip
INGREDIENTS:
1 (10 oz.) bag fresh baby spinach, roughly chopped
1 (13.75 oz.) can quartered artichoke hearts, chopped and drained
1 (8 ounce) brick low-fat cream cheese, cut into 1-inch cubes
1 cup light sour cream or plain Greek yogurt
1 cup shredded Mozzarella cheese
1/2 cup grated Parmesan cheese
1/3 cup finely-chopped white or red onion
4 cloves garlic, minced
1/2 tsp. black pepper
1/4 tsp. salt
Combine all ingredients in a large mixing bowl and stir until evenly combined. (You can also stir the mixture actually inside the bowl of your slow cooker, but it would be easier in a large mixing bowl.) Transfer the mixture to the bowl of your slow cooker, that has been misted on the inside beforehand with cooking spray.
Cook on low for 3-4 hours or on high for 2 hours, or until the dip is completely warmed through and the cheese is melted. Give the dip a good stir and season with extra salt and pepper if needed. I went the on high route for 2 hours and it was perfect! I served with fresh ciabatta bread and the olive oil sea salt toasts. Total tile 2 hours 15 min
Baked Goat Cheese Roasted Cranberry Appetizer
INGREDIENTS:
1/3 cup unsalted almonds
2 tablespoons balsamic vinegar
1/2 cup honey
2 cups fresh cranberries
1 tablespoon thyme
10 ounces goat cheese
Preheat oven to 350 degrees. Spread the almonds on a baking sheet and bake for 6 minutes. Remove pan from the oven and pour the almonds into a small bowl. Set aside.
In a medium bowl, combine the balsamic vinegar and honey. Add the cranberries and thyme to the bowl and stir until they are covered by the liquid. Set aside for 5 minutes.
On a cutting board, chop up the almonds. Set aside 1/2 tablespoon chopped almonds and roll the goat cheese in the remaining almonds. Use your hands to mix the almonds into the goat cheese and form the goat cheese into a disc. Place the goat cheese in the center of a pie plate.
Pour the cranberry mixture around the cheese. Sprinkle the set aside almonds on top of the goat cheese.
Place in oven and bake for 30 minutes. Serve hot with crackers or bread.
I used unsalted almond slices to save some time, I put them in the oven for 5 minutes before I mixed them into the goat cheese. Who doesn't like goat cheese and cranberries?! Lastly the thyme made all the flavors pop!
The OG Artichoke Dip
1/2 cup parmesean cheese
3/4 cup mayo
1 package colby jack shredded cheese (8 oz)
1 small jar minced pimentos
1 small can mild diced green chiles
12 oz. artichoke hearts diced
Mix together and bake at 325 degrees for 30 minutes- I use an 8x8 glass pan. Trust me this is easy and people will LOVE it!